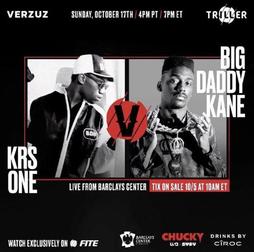 As your DJ and Host of the 12 O'Clock Flashback weekdays on 93BLX, its no question that I love the old skool joints! Well, another "Verzuz" battle happened on Sunday evening (October 17) that had me hype from the very beginning as two Hip-Hop pioneers took center stage. Big Daddy Kane and KRS-One shared some of their biggest hits, but here are Billboard's five greatest moments from the evening.
The breath control that both MC's exhibited stood out during their performances of "Outta Here" by KRS-One and B.D.K's "'Nuff Respect (Remix)."
More pioneers came to honor one another including Nice & Smooth, Das EFX, Mad Lion, Eric B, Kool DJ Red Alert, and Roxanne Shante, who showed out with an impressive freestyle.
The elements of Hip-Hop were put on display as both MCs left some hits out in lieu of freestyling and Crazy Legs and Pop Master showing off their breakdancing skills.
Finally a full scale DJ battle ensued as DJ Scratch and DJ Kid Capri showed how they are still among the best in the game, Scratch used his sneaker to scratch on the turntables and Kid Capri showed off his MC skills. Did you see it? What was your favorite moment? Let me know by shooting me a DM on Instagram @TheReal93BLX.