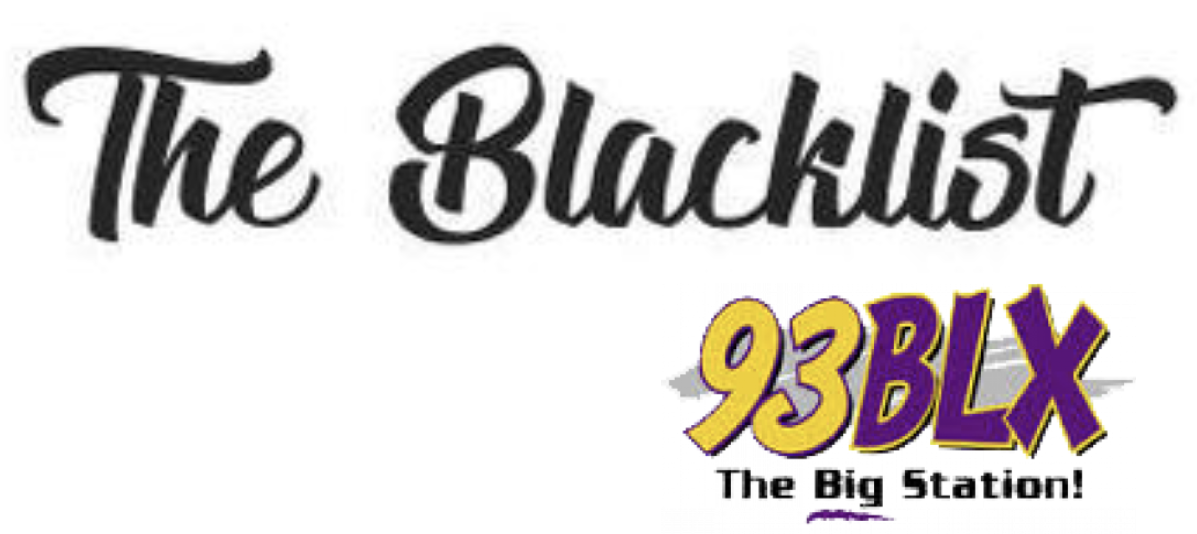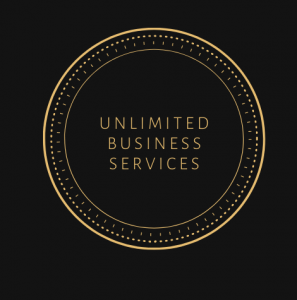 -UNLIMITED BUSINESS SERVICES Specializing in assisting truck drivers to obtain their Operating Authority, filing IFTA & Heavy Use Tax, obtaining tags, LLC creation, bookkeeping & many other services. Call 251.289.9733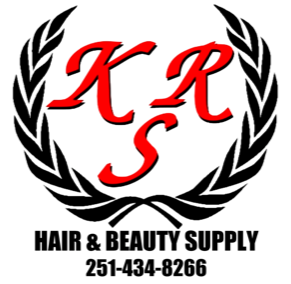 -KSR HAIR & BEAUTY SUPPLY Black owned, with competitive prices, able to get whatever you need and friendly service. Two locations: KSR Hair & Beauty Supply; 350 N. Broad Street (across from Bishop State) KSR Wig & Beauty Supply; 4154 Wulff Road (across from Semmes Library).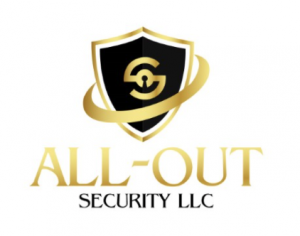 -ALL-OUT SECURITY LLC has been servicing the Mobile, and surrounding area since 1999. Their armed and unarmed professional guards are available 24/7 for all your business, residential, and event needs. Their licensed and insured security guards are carefully selected for their reliability, professionalism, and unmatched certified training: CPR, AED, and First-aid to delivered to you the highest quality protection. When you're in doubt call All-Out. Call 251.401.9373.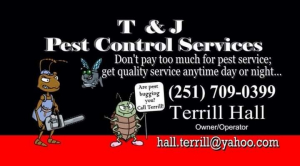 -T & J PEST CONTROL Pest Control & Termite Control. Don't pay too much for pest control; get quality service day or night. T&J Pest Control! Providing solutions to give you a pest-free home. The pest control expert you can trust. It's critter season—be sure you've protected your home and family. With many years of experience in the pest control industry, they ensure that your home is safe and pest-free. Say goodbye to pests for good with the help of a friendly professional pest control specialist. Effective pest control with affordable prices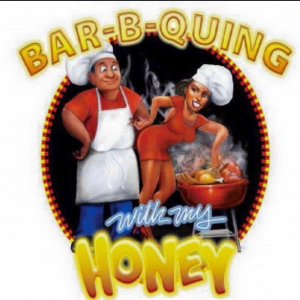 -BAR-B-QUING WITH MY HONEY has the juiciest ribs in town and many flavors of wings. Your choice of seafood: fish, shrimp and oysters. Desserts include banana pudding, bread pudding & sweet potato pies. It's BBQuing with my Honey, 1880 Airport Blvd; midtown at the loop. https://www.facebook.com/BarBQuingWithMyHoney/ Call 251.479.1089.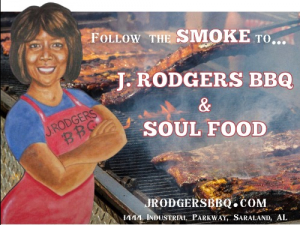 -J RODGER'S BBQ is down home cooking with down home prices! Home of the Big El Smoked Burger and the Evan's Pulled Pork Sandwich. Enjoy the best ribs smoked to perfection in a family style setting, with personal service. They even have fried ribs with fresh veggies & corn bread. Be sure to try their house favorite peach cobbler & homemade banana pudding. J Rodger's BBQ "It's All Good"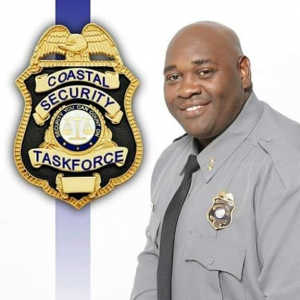 -COASTAL SECURITY TASKFORCE has been servicing the Mobile area since 2005 providing security for both home & business. If you have an event, or business that needs security then Coastal Security Taskforce is the one to call. Working closely with local law enforcement they can keep you safe. Always remember, before you go postal, just call Coastal 251.623.5189.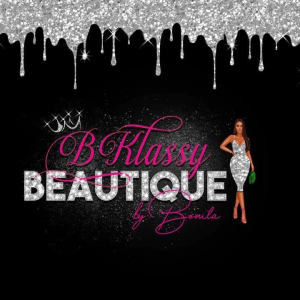 -BKLASSY BEAUTIQUE BY BONITA is one of the top women fashion boutiques based out of Mobile, AL. Known for distinctive, beautiful, classy, quality clothing & accessories for regular, full figure & curvy women. Carrying the latest tending designs with options to shop online, pick up, try on or shipping to various locations within the US with additional shipping cost. Spontaneous discounts for social medial shares and affordable prices with an array of payment options.  https://www.facebook.com/BKLASSYbyBonita. Call 251.308.5030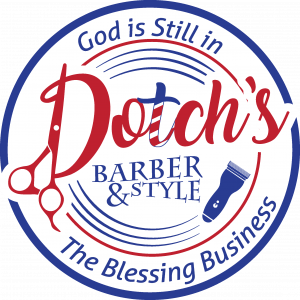 -DOTCH'S BARBER & STYLES continues to serve the DIP community & surrounding neighbors with quality haircuts for men, women & children. They offer excellent customer service in an atmosphere that is professional, family oriented & comfortable for all ages. Visit Demarcus & Joe in their new location at 2912-C Dauphin Island Pkway, Mobile Tues-Sat from 9a-6pm. For early morning appointments call 251-476-1700, walk-ins welcome.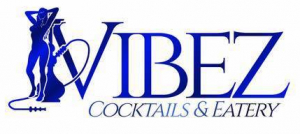 -VIBEZ COCKTAILS & EATERY Mobile's favorite premium hookah lounge, Vibez Cocktails & Eatery is open daily at 5pm with a full bar & kitchen. Catch them Friday/Saturday for extended hours & the best DJ in the city: OJ Jam Master; these are the type of vibez you don't wanna miss! 326 Azalea Road.
-ASPHALT SEAL COATING & CONCRETE
-MAMA BETTYS SWEET SHOP 5400 Billy Ave, Moss Point, MS 39563. Call 228.761.6448 www.facebook.com/MamaBettysSweetShop/
-KISS THE COOK CAFE 701 Owns Street, Prichard, AL 36610. Call 251-725-1749. Email mccall.clarissa@yahoo.com
-SCRUFF BEARD OIL & BODY 1002 Quigley Drive Crestview, FL 32536. Call 336.327.0797. http://www.scruffbeardoil.com
-CUTT ZONE BARBERSHOP 2663 Springhill Ave is ready & waiting to offer you fast & efficient service. Experience a hot towel shave today. Open Monday-Saturday 7am-7pm. Specializing in kids styling. Walk-ins are welcome. Call 251.219.6848.
-CANDILASH is Mobile, AL first Wax & Wellness Bar providing services to both male & female; including teeth whitening, mink eyelash extensions, full body waxing, yoni steams, body contouring & post-surgery lymphatic massages. With affordable services & packages, you will find that your visits to CandiLash are not just a luxury but a healthy habit. Call 251.732.3544.
-NORTHVIEW HEALTH SERVICES provides mental health support services to the community. They are maximizing life's moments through uncompromising love. They are also looking to hire people that have a high school diploma or equivalent to provide support to people in their residential homes and throughout the community. Stop by Bel Air Tower: 851 South Beltline Highway- Suite 508 to complete an application today. Call 251.378.8978 or see more northviewhealthservices.com
-ABSOLUTE SERVICES LLC has been trusted by home & business owners for more than 20 years & servicing Mobile & Baldwin counties. Looking for a job? Absolute Services LLC is now hiring experienced plumbers with a valid driver's license. Starting pay is based on experience at fifteen to twenty dollars per hour. Qualified candidates may call 251.415.3721
-FUTURE KINGZ BOYS APPAREL & ACCESSORIES is here to help other "boy" moms to help their future kingz fly! Providing stylish & quality apparel & accessories. Sizes range from infant to junior size 12/13 in select styles. Shop online at futurekingzboysapparel.com
-GABE PECK ALLSTATE AGENCY is here to build a solid foundation with you as their customer. They specialize in all forms of insurance for your needs including: life, home, boat, auto & even cell phone coverage. Don't hesitate, contact them today at 251.341.1313. Email gabepeckagency@allstate.com
-FACTOS SNACK SHACK located at 4027 N. Davis Hwy in Pensacola serving you delicious meals with wings, shrimp, salad and more. Home of the fried ribs! Dine in or carryout is available. Call today at 850-332-1075 to place your order.
-TASTE OF HEAVEN CAFE is a traditional Soul Food Restaurant. Their menu features their Original Braised Oxtails daily, Fresh Cut Collard Greens , Homemade Mac and Cheese. They also offer Baked and BBQ chicken , Fried and Smothered Pork Chops, Turkey Necks, BBQ or Fried Ribs and also Seafood. Desserts include Pound Cake, Banana Pudding, Blackberry Cobbler, Peach Cobbler and Taste of Heaven signature Bread Pudding. Hours of operation are Tuesday through Saturdays from 11:00 a.m. to 6:00 p.m, closed Sundays and Mondays open. Family owned, giving you a Taste of Heaven here at "Taste of Heaven Cafe".
-GOOSEHEAD INSURANCE Michelle D Johnson 1766 Sea Lark Lane, Ste D, Navarre, FL 32566. Call 850.387.1546 or email michelle.johnson@goosehead.com
-SNATCHED BODIES, LLC 800 Downtowner Blvd, Ste 108, Mobile AL 36609. http://snatchedbodiesllc.com. Call 251.230.8866 or email lconner@snatchedbodiesllc.com
-FAITH EARBOBS & THINGS Online boutique offering pickup, delivery & shipping. Find on Facebook also at faith-earbobs-things.myshopify.com Call 251.366.4914
-HONEST AIR LLC is your preferred diverse heating and cooling company that services the Gulf Coast. Here at 
Honest

 

Air

 LLC we have competitive prices & wonderful customer service for residential & commercial customers. We offer sales, installations, preventive maintenance agreements & provide quality service throughout our community. Call today at 251.509.9779 & mention this ad to receive 10% off your next service call.
-LASH FLYNESS BY VANESSA specializes in strip banded lashes to accentuate a natural & an exotic Eyelash Look for all Ladies within Pensacola, Gulf breeze, Milton & some areas of Mobile. Whether it's just an everyday look or a special occasion. Simply google "Lash Flyness". Don't get up .. they come to you! Call 850-332-7806!
-AZALEA HEALTHCARE sells, repairs and installs power wheelchairs, scooters, ramps. and vehicle lifts. Pick up and delivery is available. They take all major insurance for repairs! Open Monday through Friday, 8am to 4pm. Call 251-344-9443 or visit AzaleaHealthCare.Net. Azalea Health Care. Your mobility is their number one priority.
-VICTORIA'S STREET EAT'S & SWEET'S Specializing in anything sweets & eats, ranging from candy apples to chocolate covered strawberries. They're customer centric. They deliver. They cater large orders with advance orders. Custom orders available. Candy apples, cupcakes, covered chocolate strawberries, covered chocolate pretzels, candy popcorn, t-shirts & more. Located in Mobile, AL. For order info call 251.229.9270 or message Victoria's Street Eat's & Sweets on Facebook or Instagram
-STALLWORTH INSURANCE SERVICES, 1601 N, Pace Blvd in Pensacola. Stop by today and get a quote .. or call 850-542-4937. Helping you eliminate the worry of your safety with Auto, Life, and Home Policies. Stallworth Insurance is here for you!
-32 & LAVENDER Affordable, Trendy 
and

 Comfortable Clothing for Plus Size/Curvy Women. Make your first impressions matter. Where Curvy Girls Matter! Website: 32andlavender.com
-JAY37 CONSTRUCTION In business for 15 years. Licensed and bonded in Mississippi and AL. Roofing repairs, replacements (both shingles and metal). Residential and Commercial. Website https://www.jay37constructionllc.godaddysites.com  jay37constructionllc@gmail.com 228.990.2713
-THE DEN BARBERSHOP The Den Barbershop at 8534 N. Palafox St in Pensacola is locally owned and ready to accommodate all your barbering needs, with a friendly staff and laid-back atmosphere, they look forward to seeing you!
-K&M FINANCIAL SERVICES Proud to be a tax preparation & bookkeeping agency that helps business clients and individuals make sound financial decisions daily. They are fully committed to helping small businesses succeed by performing the critical bookkeeping functions that keep you financially solvent & compliant with financial regulations. Find them KandMFinancialGroup.com
-LILHEART APPAREL 1847 Nestle Drive, Pensacola FL 32514 http://www.lilheartapparel.com 850.465.4406
-BOUTIQUE 803 8624 Pensacola Blvd Pensacola, FL  32534 boutique803pensacola@gmail.com 850.466.2768
678.873.8706
-DOUBLE M LAWNMASTERS, LLC 2619 N. "H" St. Pensacola, FL 32501 Email: mjtice@live.com Call: 850.208.5442
-HARBORTOUCH Supplier of point of sale (POS) systems, credit card processing equipment and a full range of merchant services jerrellposfree@gmail.com 251-303-6967
-ORGANIZED BY KAY In-Home Organization. www.getorganizedbykay.com 251.219.8222.
-HIXARDT TECHNOLOGIES 282 N. Palafox Street Pensacola, FL 32502 https://hixardt.com 850.439.3282
-BALDWIN PRINTS (PRINT ON DEMAND SERVICE CENTER) 3840 S. McKenzie St. Suite F, Alabama 36535 Brandon Allen http://www.baldwinprints.com 251.213.9432
-WRITESTUF COMMUNICATIONS, LLC P.O. Box 8151. Mobile, Alabama 36689 https://writestuf.com Darron Patterson writestuf.dp@gmail.com 800.664.2603
-UNIVERSAL PEST CONTROL P.O. Box 91884 Mobile, AL 36691Felecia Davis Universal.pest@ymail.com 251.382.0013
-CUTTING LAWN SERVICE 2442 Hill Street Mt. Venon, Al 36560 Bernard & Valeria Woodard valarie.taylor@tatenandlyle.com 251.554.1010
-O8SIS Expect more from your water. O8sis is ultra filtered alkaline water infused with hemp oil. It has a clean crisp taste and helps with inflammation, stress, anxiety, sleep, hangovers, and aches & pains. Go to drinko8sis.com for local availability and shipping, or contact Tony Tejas at 251-454-2807 for delivery. O8sis Hemp Water Healthy Mind Healthy Body. Website: drinko8sis.com
-IMPACT BEAUTY is more than just a brand, but a statement of impact and beauty. Impact Beauty provide luxurious, affordable skincare from head to toe because the one thing you cannot buy is new skin, so why not invest in it. Each tier cost 30.00. Pick from Bare Beauty, Bejeweled Beauty, Bodacious Beauty or Boss Beauty. Each box features full size product and samples! Website: https://poshmark.com/closet/johnise_johnson
-REDMONT Remember holiday parties? Everyone loves Redmont Vodka and Vulcan Gin. This season while you're out or at home celebrating this holiday season, pick up a bottle at your local ABC store or Package store today.
-BREATHE FRESH CLEANING & DISINFECTING LLC Need a residential or commercial building cleaned? Call today! They also do disinfecting at customer request. Phone: 251.545.9182.
-VIOLA'S MENS APPAREL The only black-owned menswear store in the area & in business for over 20 years. Their class, cost & care is unmatched. They carry anything from classic 2-piece button business suits to most elaborate Mardi Gras season ensemble. They carry sizes 36-60 in store and can special order smaller and bigger sizes including toddlers. They have anything a man would need from hats down to shoes and all of the accessories in between.
-KEY HOME HEALTH CARE LLC 24 Hour in-home service. Daily, Weekly or Monthly. Insurance accepted after 2 weeks. Phone: 251.209.6319.
-TONY'S TEJAS SALSA "The World's BEST Salsa" is made right here in Mobile, by hand with love. Black owned and manufactured. Tony's Tejas Salsa, making the world a better place one cup of salsa at a time. Because Black Businesses matter. ​Go to tonystejassalsa.com for local availability.
-EASY HEATING & COOLING A residential and commercial HVAC hero that saves the day and night, cooling your summer and warming your winter at home and work. Serving Mobile & Baldwin counties, we offer reputable products, high quality service at an affordable price, and leave no one "out in the cold". Visit https://easyheatingcooling.com/​ to schedule your air comfort appointment today.
–GBM3, INC Barber & beauty service & equipment. Also landscaping, erosion control & trucking. Alabama Unified Certification Program & Disadvantaged Business Enterprise Program. Hours: 8:30a-6p. Address: 1917 Duval St, Mobile AL 36606. Phone: 251.473.9575. Website: https://www.facebook.com/gregsprofessionalbarberandbeautysalon/
-DIXIE HEARTS HOME HEALTH CARE They assist geriatric, dementia , dispense medication, catheter/suprapubic change, bath/grooming, laundry, meal prep, slight cleaning, transportation. They are your in-home sitter companion and so much more. Petit Ave, Mobile AL 36617. 251.355.5954. Email: dixiehearts@outlook.com
-LEGACY GLOBAL MUSIC GROUP Phone: 678.499.5901. Address: 558 Augusta St, Mobile.
-PH NATURALS BY PAM HENSHON Phone: 251.635.9881. Address: PO BOX 1092 Theodore AL 36582.
-WAY BIGGER THAN LANDSCAPING, LLC Jerney Purifoy. Phone: 850.857.3567. Address: 1609 West Young St, Pensacola FL 32501. Email: waybiggerthanlandscaping@gmail.com
-METRO TIRES David Reed. Phone: 251.648.9458. Address:1714 Virginia Street, Mobile. Email: reedd7262@gmail.com
-THE NEIGHBORHOOD ICE CREAM PARLOR Derrick, Brian and Dena Harris, Johnson and Greir. Phone: 850.857.8489. Address: 121 Chiefs Way Ste 6, Pensacola. Email: pensacolaicecream@gmail.com
-THE MAIN EVENT Randy & Tonya Nicholson. Phone: 251.236.9261. Address: 2385 Douglas Ave, Brewton. Email: rnicholson05@bellsouth.net
-FRECKLEZ GIFTZ & GOODIEZ Cecelia Bush. Phone: 251.391.3588. Address: 2616 East Rd, Mobile. Email: frecklez_13@icloud.com
-BUDDIES HOUSE OF FOOD Roland Mims. Phone: 228.341.0312. Address: 4306 Main St, Moss Point. Email: rolandmims@yahoo.com Website: https://m.facebook.com/buddiesbbq
-AURAS BY OSIRIS Markel Lewis. Phone: 850-293-7362. Address: 4116 West Fairfield Drive Pensacola, FL 32505. Email:
-THAT'S SEW ALICIA Alicia Horsley. Phone: 251-327-9107. Address: 549 Wilson Ave Prichard, AL 36610. Email:
-2 SISTERS CAFE Nitra Mitchell. Phone: 251-239-8335. Address: 204 E. 2nd St Bay Minette, AL 36507. Email:
-CURVY GIRL STYLES BOUTIQUE Open Wed-Sat. Hattie York. Phone: 251-604-6602. Address: 4805 Moffett Rd Ste. C Mobile, AL 36618. Email: curvygirlstylesllc@gmail.com Website: www.curvygirlstylesboutique.com
-CARDY MY YARDY Themed Celebration Signs, Balloons. Tennile Thomas. Phone: 251-301-6727. Address: 4106 Fenwick Loop Mobile, AL 36619. Email: CardyMyYardy@gmail.com
-BIG WHITE WINGS Unice Woodard. Phone: 251-721-3829. Address: 405 S. Wilson Avenue Prichard, AL 36610. Email: bigwhitewingsllc@gmail.com
-FAT BOYS DINER Tydus Williamson. Phone: 251-452-2906. Address: 1801 St. Stephens Rd Mobile, AL 36617. Website: www.fatboysdineral.com
-GOT THE HOOK UP CHARTERS Brandon Hilliard. Phone: 850-240-6186. Address: 603 Legendary Marina Drive, Destin FL. Email:
-A&O HEALTH CAREER CENTER Committed to your success! Natel Foster. Phone: 251-643-5197. Address: 4373-B Downtowner Loop S Mobile, AL 36609. Website: www.aohealthcareer.com
-TALONTED LLC Robin Gibson. Phone: 850-778-1913. Address: 220 Government Ave Suite 1 Niceville, FL 32578. Email:
-THE BEAUTY SPOT Phone: 
251-294-0926. Address: 
1172 Northgate Drive Atmore, AL 36502. Website: Facebook@MzCutUpNDye
-ROCK THE HOUSE CAFE Phone: 251-605-0897. Address: 2206 Government Street, Mobile, AL  36606. Website: https://www.facebook.com/RockTheHouseCafee
-FLABULESS ENTERPRISES Syreeta White. Phone: 251.214.5068. Address: PO Box 13066 Mobile, AL  36613 Website: www.getwaistedwithsyreeta.com
-BLKGURLCITY Jalisa Moore. Phone: 251.508.4137. Address: 100 Dairy Rd,Mobile, AL 36612. Email: blkgurlcity@gmail.com Website: http://www.blkgurlcity.com
-OLD TIMER CLEANING SERVICES Pedro Balbosa. Phone: 850.612.1907. Address: 4519 Hermosa Rd Crestview, FL 32539. Email: pedrobalbosa@gmail.com Website: http://www.oldtimercleaning.com
-NAUGHTY NIGHTS LINGERIE BOUTIQUE Jimeka Brown. Phone: 251.295.7218. Address: 316 S Wilson Ave Prichard, AL 36611. Email: jimekabrown@gmail.com Website: https://www.naughtynightslingerie.com
-YOURZ TRULY SALON & NAIL BAR Russell Tyson. Phone: 850.619.5660. Address: 4630 North W St Pensacola, FL 32505. Email:
-VAL'S CARING HANDS LLC Valerie Simms. Phone: 251.463.2210. Address: 1051 S Ann St Mobile, AL 36605. Email:
-SOUL HEAVEN CAFE & CATERING Lillie McCoy. Phone: 251.591.7827. Address: 3365 Moffett Rd Ste A. Mobile, AL 36607. Email:
REGISTER FOR THE BLACKLIST
The Big Station 93 BLX & Cumulus Radio of Mobile are highlighting black-owned businesses!
August is Black-Owned Business Month & we understand the importance of supporting our local businesses here along the Gulf Coast.
How do you "GET ON THE BLACKLIST?"  .. just fill out the form below & we will get your business on the list for FREE!