"E.J. The At Work Network"

 The Program Director

Monday-Friday
2:00 P.M.- 6:00 P.M.

Facebook:

 

ej.greig

Twitter

:  @radiodjej

Instagram:

  djejgreig
Birthday:  September 13
Zodiac:  Virgo  
Hometowns:  Battle Creek, MI/Atlanta, GA
Life:  E.J. Greig previously programmed and did middays at WIZF, Cincinnati.  He. Is one of the original staff members at WHTA HOT 1079 Atlanta. "I was with Luda and La La back when it was 97.5!"  E.J. grew up playing and exploring behind the scenes in TV newsrooms as his mother anchored the news.  "Early in my radio career I was unhappy with my progression. So I gave up. I joined the Navy. I was stationed in Pensacola and would listen to WBLX, and think I need to get back in radio."  After working at WJLB/Detroit, WOWI/Norfolk, WJPC/Chicago and V103/Atlanta, he's found a home with the Big Station WBLX!
Favorites:
Artists:  Kendrick Lamar, UNV, K Michelle, T.I., J Cole, and my friend, Ludacris!
Dinner:  Lobster!
Colors:  Royal blue & pure white! (GOMAB)
Bests: Interviewing President Obama. Interviewing Michele Obama was a close second.
Concerts: Birthday Bash 1 and Birthday Bash 10
Guilty Pleasures:  Love & Hip Hop Atlanta!
Thoughts: With God all things are possible!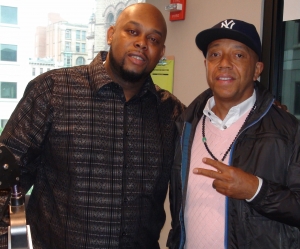 E.J. with Russell Simmons